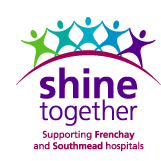 Fascinating Rhythm
Charity of the Year 2014
In 2014 we are pleased to be supporting
Shine Together
Shine Together is a charity based at Southmead and Frenchay Hospitals in Bristol. We exist to ensure that patients from across Bristol receive the highest levels of care, and have access to first-rate facilities.
The North Bristol NHS Trust serves patients from Bristol, South Gloucestershire and North Somerset, reaching a population of over 500,000 people. We also serve a network-wide community for the Avon, Somerset and Wiltshire Cancer Network whose population is approximately 2 million.
To support local patients and their families, we raise over £1million every year.
Hundreds of local people support us by raising money for research projects and patient care in Bristol.