A Chorus to suit your event.
Fascinating Rhythm can entertain at a variety of different events, from birthday to anniversary parties and weddings, charity fundraisers and other social and corporate events. You can book Fascinating Rhythm as a full show chorus of between 30 and 60 or as a small group of singers, including octets and quartets, to suit the style and venue of your event.
To be able to determine the number of singers required to provide the best possible acoustic and visual quality, we will need to know where the event is taking place.
Usually, two members of the chorus will visit the proposed venue to measure for our staging.
We endeavour to adapt our performance to the space available to provide an enjoyable event for everyone.
It is a good idea for you to hear us perform. Once you have completed the enquiry form below, we will arrange for you to come to one of our performances or a Thursday evening rehearsal in Winterbourne.
There are so many great songs, and we would love to sing them all but have settled for quality and an eclectic mix instead. 
It has always been recognised that songs filled with emotion and meaning are particularly suited to the genre of 4-part a cappella harmony. All that lovely stuff from the 1920s through to the modern-day sung by so many great vocalists. 
We perform a good selection from these years, including "Feeling Good", "You Don't Own Me", "This Is Me" (from The Greatest Showman) & from the 1970s, a 10 part arrangement of the ELO's "Mr Blue Sky".  
We are privileged to have some brilliant arrangers in our Barbershop Societies today and thoroughly enjoy singing what they've accomplished with modern songs, including Coldplay's "Fix You" and Paloma Faith's "Make Your Own Kind Of Music" through to Take That's "Shine" and Billy Joel's "And So It Goes". 
We've even got a bit of Tchaikovsky in there with the "Dance of the Sugar Plum Fairy".
We all love our two most current convention songs; "Its De-Lovely" and "City of Stars", from La La Land, again arranged for us by Dr Liz Garnett.
With all the songs in our current repertoire, plus several more from our in-house quartet Specs Appeal, and small group RhythmMix we can put forward a varied and well-balanced programme for you.
There is also our Christmas programme of carols and seasonal songs – all the favourites for this particular time of year.
Samples from Our Repertoire
Small groups and Quartets
There are times when a chorus of 50+ singers is just too big for a smaller, more intimate venue! As all our members really enjoy singing and performing, some have joined together to form quartets and small groups affiliated with Fascinating Rhythm, which means you can book a smaller group to fit your requirements. It also means we can give variety to any show by offering a broader musical programme alongside our full chorus.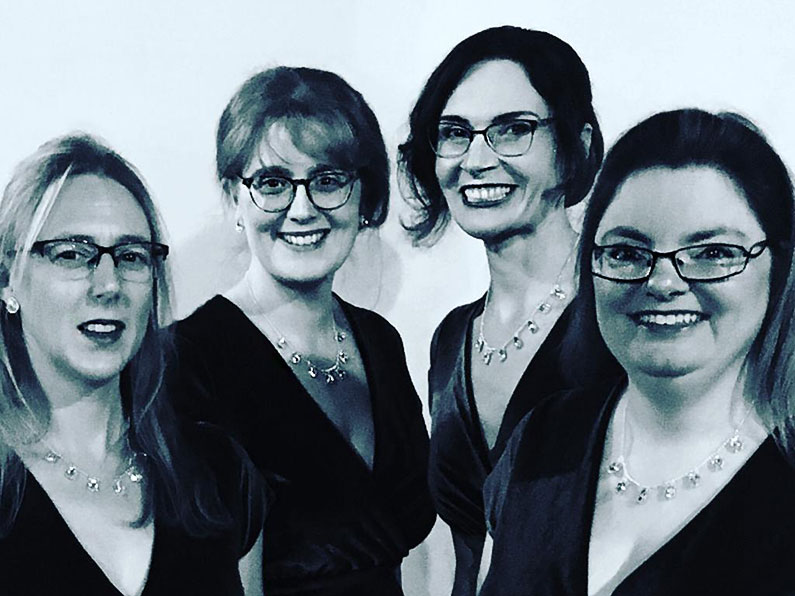 We are Kate, Hannah, Amy and Becky – otherwise known as Specs Appeal and easily recognised by our trademark glasses!
We are all members of Fascinating Rhythm and began singing together as a foursome in 2018.
Since then, we've become firm friends through the medium of tea and cake.
We love singing songs that reflect our sense of humour, nerdy tendencies, and nostalgia for the 1980s.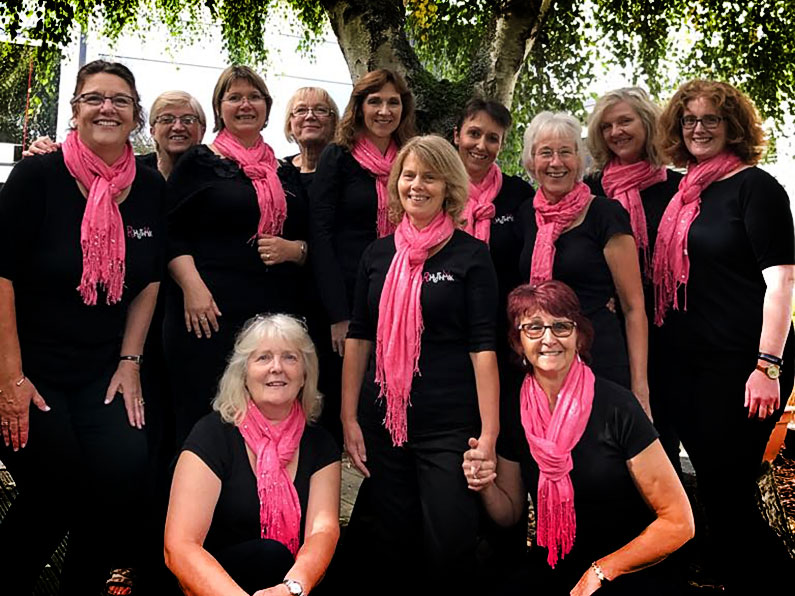 RhythmMix are all members of Fascinating Rhythm, and they often represent the chorus when a venue is unable to accommodate more than 50 singers!
They love singing in four-part harmony, entertaining audiences at all kinds of venues and events from concerts, social evenings, charity events and festivals.
Their repertoire covers a wide variety of songs in a cappella style from pop songs, ballads to easy beats.
For more information for RhythmMix and Fascinating Rhythm, please contact Jan on Tel: 01453 843658.
If you would like us to perform for you at your corporate event, wedding, concert, charity event, dinner etc please complete the form below and we will be in touch to discuss the possibilities with you.