Fascinating Rhythm was formed 20 years ago in 1995, and we felt had to 'push the boat out' to mark the occasion with a Celebration Show.  In collaboration with Rachel Bosomworth and her team from Love's Bet
Productions amateur dramatic group and Junior FR we set about working our socks off to present a high quality musical show in just 6 months. We learned 6 new songs to add to our repertoire together with some exciting new skills that included acting, dancing and comedy (!).  All the hard work and commitment paid off with sell-out performances for both the matinee and evening show, exceeding expectations for both us and, we hope, the audience!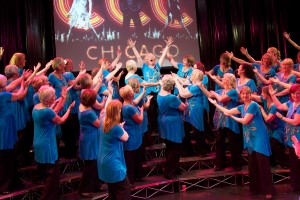 Themed on 'Songs from Stage & Screen' we opened the show with a 10-part arrangement of 'Mr Blue Sky', then offered up songs from, amongst others, Oliver, Chess, Chicago, Les Miserables, and Lady and the Tramp … nineteen in all – phew, still recovering, especially with the number of costume changes.   Love's Bet Productions provided comedy with their version of 'The Song That Goes Like This'
(Spamalot) as did FR's rendition of 'Anything You Can Do' (Annie Get Your Gun) that started with a no-holds-barred tap dance-off from our twinkle toed Jane Sawyer and Julie Bath. 'The Dance of the Sugar Plum Fairy' (Nutcracker Ballet) went well with a very unusual in-house comedy dance team involving black and white tights, accompanied by an excellent (and very camp) male ballet dancer … absolutely hilarious. Good job we'd seen it in rehearsals or we'd not have been able to sing.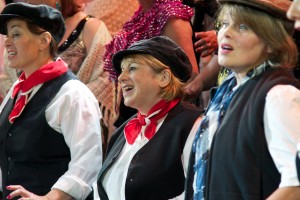 As ever, Junior FR stole the show when they joined us for Oliver, complete with Victorian costume. They had their own spot for a medley of songs by Queen and then did an inspiring percussion accompaniment to the 'Cup Song'.  They are an awesome team who do Wendy Howse (MD), and FR Senior proud.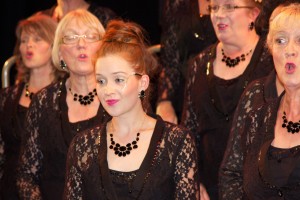 MD Jo Dean actually got a chance to sing with a 'goose-bump' version of 'I Know Him So Well' duet with Ali Jack – founder member of FR from inception in 1995 when it was known as 'Rainbow'. Ali received a very special award for her dedication and commitment to Fascinating Rhythm, holding numerous titles during her time with us. Our youngest member, Georgia Radcliffe, has been with the Chorus for 10 years, joining when she was just 12; when she sang her solo 'On My Own' (Les Mis) – definitely not a dry eye in the house.
We were honoured to have current LABBS Chairman Brenda Rothwell in the audience along with Jean Olman, who has been our LABBS representative since the beginning and from whom we have always had great support and encouragement, along with past Directors and members, who have all been very much a part of our journey.  It's all been very different from the usual concert-type performance we're used to and at times we've been waaay out of our comfort zone but it's been so well worth it – we've learned much along the way.