JFR at Proms in the Meadow – July 2016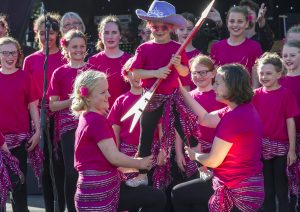 Once again Junior Fascinating Rhythm had the privilege of opening Iron Acton's Proms, and this year the theme was Spain.  Dressed in pink and black, their hair adorned with a pink flamenco style flower, the girls opened with their first Spanish contribution – 'The Tango', from Roald Dahl's Cinderella. This was followed by 'Teddy Bears Picnic' sung in four-part harmony, then our younger contingent sang a medley of Abba's 'Super Trouper and Dancing Queen' in two-part harmony.  Sharon Marshfield, one of the FR ladies who assist each week at rehearsals, debut as Director for a bespoke four-part arrangement of the Beatles 'Help' sung by the secondary school age members.  This year's repertoire also included Bob Marley's 'One Love' featuring a very confident duet by Alice and Georgia.  JFR's second contribution to the theme of the evening was 'The Spanish Flea – featuring our youngest member, Lily Howse, as a very cute flea.
Nine of the girls are lucky enough to have their mothers (who sing with Fascinating Rhythm)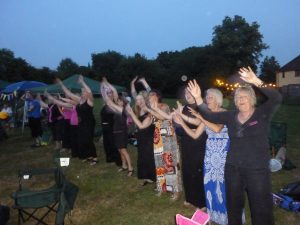 along at each rehearsal and these six lovely ladies, including the MD of JFR, help to coach and support the girls with their singing. To celebrate this they performed a round together in their family units – a proud moment for the Mums (though no doubt mild embarrassment for some of the girls!). This piece was also dedicated to two of the Mums and daughters who are sadly leaving JFR.
For their finale – 'We're All in This Together' from High School Musical, the girls had the audience up on their feet and joining in – a great ending to a lovey gig.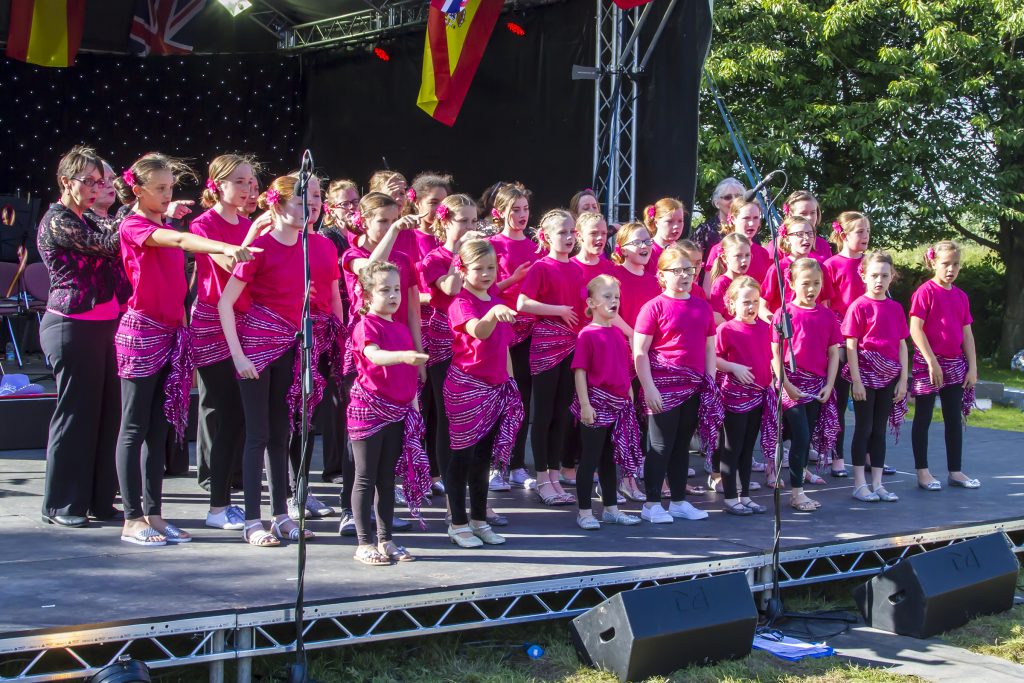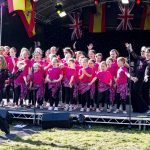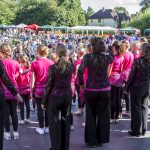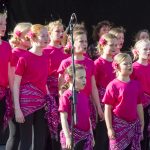 AND …  entertaining the WI 25th June 2016
Junior FR were delighted to be invited to provide the entertainment for Iron Acton WI's annual dinner for senior citizens at Rangeworthy Village Hall and the audience agreed they put on a fabulous show.  The icing on the cake was that, unbeknown to the girls, there was a very special person in the audience … Sally McClean, awesome MD of the multi-gold medal winning White Rosettes chorus.  Sally gave the girls some wonderful complimentary feedback when she came backstage and spoke to them at the end of their performance.  This upped the girls' elation by several degrees and comments like 'OMG – that's Sally from the top barbershop chorus in the country!' could be heard.  Fabulous end to another great gig.