Fascinating Rhythm invited Junior FR to rehearse with them on Thursday 9th March prior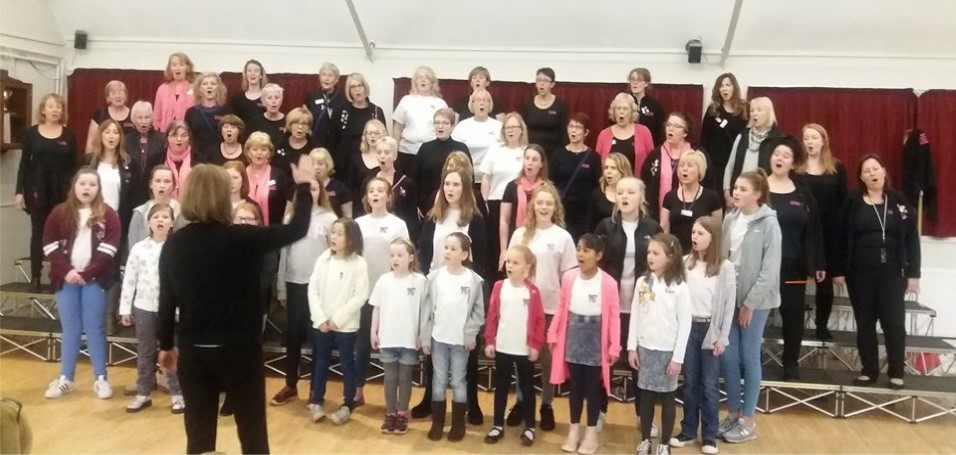 to JFR's performance at the Thornbury Eisteddfod the following Tuesday.  The evening was led by Wendy Howse, Assistant Director / Choreographer of Fascinating Rhythm and JFR's MD.
JFR had prepared a new 4- part warm up, written by Kitty Shelton Davies, whose inspiration came from a current chart song – Clean Bandit's 'Rockabye'. Working together in their sections, a JFR girl from each voice part – Lead, Bass, Tenor and Baritone – taught their harmony line to the FR ladies, who in turn introduced one of their warm ups to JFR's repertoire. Both warms ups were then performed together as a whole chorus, producing an amazing sound for the very appreciative audience.  Parents came to support their talented offspring and, along with FR seniors, they gave JFR the invaluable opportunity to perform their Eisteddfod competition songs to a live audience, offered helpful feedback and advice to the girls and wishing them luck.




So, on Tuesday 14th March at St Mary's Church in Thornbury alongside choirs from Tockington and Badminton Schools, this was the 4th year they have taken part, competing in the under 14's category with 'Amazing Grace / Pachabel's Canon' in three-part harmony and 'Joshua Fought the Battle of Jericho' in two-part harmony.  With higher marks than last year, JFR were awarded a Distinction and were just pipped to the post by one point – a truly excellent result, particularly considering that the winning choir had over 60 singers. In addition, we are proud to say that this year eight of the Juniors ranging from 6 to 14 years will also be performing solos as part of the same Eisteddfod taking place on Sunday 19th March. Three of the girls were extremely courageous and gave Fascinating Rhythm a sneak preview of their performances.  These soloists are very privileged to have been invited to perform their songs at the Iron Acton May Day on 1st May.
Eisteddfod Update:
Comments from MD Wendy:
We came, we sang, we were truly awesome. New hoodies looked great. I am so, so proud.
The best performance yet. Second place with 87 marks (first place got 88), so only one mark difference. The audience loved us. Well done everyone.
Some comments from the adjudicator:
Clever mix of songs with Pachabel Canon / Amazing Grace which worked very well.  Very clear diction throughout, good use of consonants.  Narrative never compromised.  Admirable, beautiful performance and all without sheet music or accompaniment.
Comments from an audience member:
I was at St Mary's Church today for the Choirs – I help on the Eisteddfod Committee so I have been present at many of these occasions over the years.  I thought that the overall standard of performance today was excellent, especially in the V21 class and I didn't envy the adjudicator's job because everyone gave of their best and entertained us all so well.
I just wanted to say on my own behalf how much I enjoyed the two songs performed by Junior FR – both excellent choices and so beautifully performed.  All of the singers were very engaged in the songs and their enjoyment of what they were doing was evident in their faces.  I thought the combination of Amazing Grace and Pachebel's Canon was superb. I belong to a local acapella chorus and I can understand fully the challenges of this arrangement which worked brilliantly.  I'd be grateful if you could pass on to the choir my personal thanks for such a memorable performance.  I would also like to pass on a comment made by the founder of the Eisteddfod who attends all the classes every year.  She said that the conductor of your chorus was really impressive in her communication with the chorus.
See you all next year and you and your girls on vocals day.
With best wishes, Jackie Jackson
There is plenty in the pipeline for JFR this year. They are just about to start working on Roald Dahl's Little Red Riding Hood which they will perform in July and on Friday 31st March we are encouraging each member of Junior FR to invite someone along to their rehearsal as part of 'Bring a Friend' night.