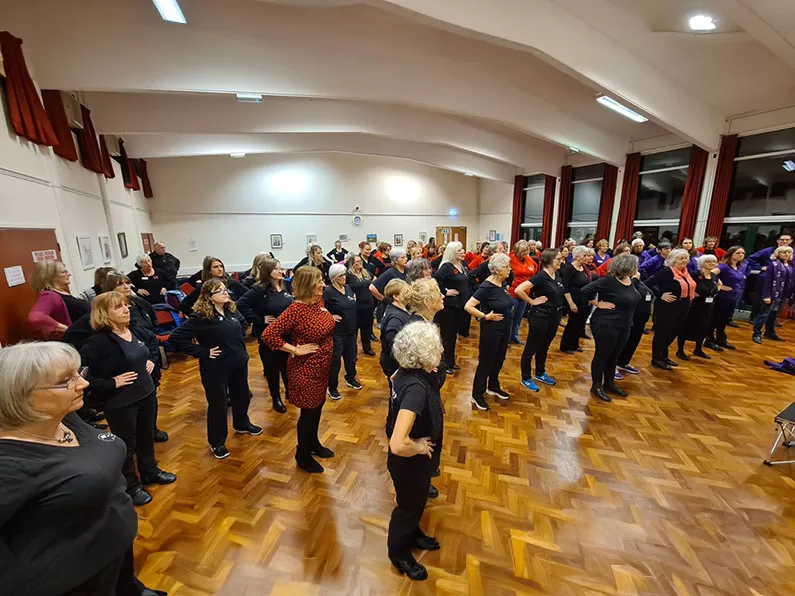 Harmony Unleashed: A Night of Musical Splendour with Avon Harmony, Black Sheep Harmony, Bristol Fashion, and Fascinating Rhythm.
Hosting the LABBS Bristol choruses meetup on Thursday, 9th November, at the Greenfield Centre in Winterbourne, our rehearsal home, was an absolute pleasure.
We welcomed local choruses Avon Harmony, Bristol Fashion, and Black Sheep Harmony and were delighted to give Natalie Feddon, the immediate past chair of Labbs, the opportunity to talk to us all together.
It was so lovely to spend an evening of harmony with everyone, and it was such an entertaining evening and an inspiration to hear the songs everyone has been working on recently.
The evening kicked off with warm-ups held by each MD or acting MD. Jo Thorn, our director, led us through some physical body warm-ups and then a vocal exercise. Mary Williams, MD of Avon Harmony, had us singing about Alfred the Alligator, Pete Nugent, MD of Black Sheep Harmony, brought back 'Inch Worm', an old favourite, and we sang 'Black Socks' with Caroline Bamford, Deputy MD for Bristol Fashion.
With our voices and bodies ready to perform, Avon Harmony took to the stage first and gave us 'California Dreamin' by the Mamas and the Papas, followed by Queen's 'Don't Stop Me Now', and they set the stage for an evening of musical brilliance.
Black Sheep Harmony gave us a mesmerising rendition of 'White Winter Hymnal' by Fleet Foxes, involving some impressive body percussion demonstrated HERE by Pentatonix. They followed this with a great Abba medley, which got us all tapping our feet and swaying in our seats.
Before the break, Natalie gave a brief and impactful presentation emphasising LABBS's commitment to engaging with its members. She shared insights into the organisation's forward-looking initiatives, urging members to review recent articles ahead of the Council meeting in November.
It was then time for a cuppa, a biscuit, and a chance to catch up and mingle.
After the break, we were treated to Bristol Fashion's performance of Jess Glynne's 'Hold My Hand', followed by their recent convention 7th place up-tempo 'You'll Never Go Wrong With a Song', and they had a blast doing it.
It was then our turn to sing, and we were delighted to perform 'Hallelujah' by Leonard Cohen, a song we've been working very hard on lately. And finally, to end the show, we sang David Guetta's song about inner strength, 'Titanium'.
The diverse repertoire of all four choruses showcased the range and creativity of barbershop singing.
We all came together to round off the evening with a mass sing of the LABBS polecat 'Anthem' from the musical Chess – showcasing the power of unity in creating a breathtaking musical moment which you can watch HERE.
Some quotes from the evening:
"A great evening spent with our sisters in song. Bristol is a hotbed of Barbershop, and we love spending the evening with our friends in harmony."

Pete Nugent
"It's fabulous for the LABBS choruses to get together as a celebration of what we do. Avon Harmony is still buzzing about the event, and they can't wait until we organise another one."

Mary Williams.
'It's always wonderful to meet up with other barbershop choruses in Bristol as we share our love and joy for this music! As Craig was busy at work that evening, I was given the honour of directing the Bristol Fashion Chorus. Something I always relish doing. Thanks so much, FR, for organising and hosting such an enjoyable evening!"

Caroline Bamford.
"The Bristol area is abundant with Barbershop talent and the wonderful sense of community that comes with our hobby; we are incredibly lucky to have this in our lives, and evenings like this really bring it home."

Jo Thorn.
The night provided a testament to the strength and unity found in the shared love of barbershop singing.