Thursday 10th March saw Junior FR competing again in the U14 Choirs class in St.Mary's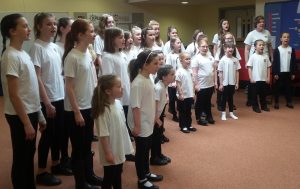 Church, Thornbury.  After a fantastic warm up session at the Turnberries Community Centre led by MD Wendy Howse and assisted by Sarah Winter, we gathered in the rather chilly church atrium before being allowed into the only slightly less chilly church!
Heidi introduced the choir for our first song, 'Midnight Tango', which was part of our  recent successful production of Roald Dahl's Cinderella.  It involves two verse melodies, each with interactions from the other part and then a two-part harmony chorus, arranged by JFR helper Kitty Davies. The final verse then mixes the two melodies together as a finale. The girls managed all of this with some fantastically evocative Latin moves which were executed with great style and syncronisation, providing a most entertaining and energetic performance.   A big thank you goes to Jo Luddington for her wonderful piano accompaniment.  The adjudicator comments were "Such neat actions.  Good sound and musically shaped.  Good balance and communication. Very promising work".
Our second piece, introduced by Meg, was a four-part harmony arrangement of 'The Teddy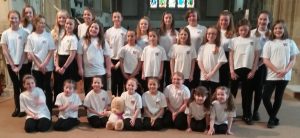 Bears Picnic', arranged especially for us and paid for by a very generous benefactor.  It was a challenge, and one which we only had a short time to learn after Cinderella.  The girls were up for the challenge, coping really well with the level of difficulty and bringing out the humour in the lyrics ("Have a banana!" and "yummy yummy yummy!").  Again the adjudicator appreciated how ambitious the piece was, especially with our age range being 5-14!  The girls did lose the tuning a little but with a  cappella pieces of this nature it is often very difficult not to.
JFR scored a fantastic 85 but were just pipped to first place by Tockington who scored 86.  This choir of older children sang with a lovely blended sound and great dynamics (but JFR were definitely more entertaining!).
The adjudicator finished with a plea to all parents who appreciate the value of music and art in their children's lives.  There is a move by Government to enforce the English Baccalaureate in secondary schools meaning that 7 GCSE subjects will be compulsory (none of them being of the Arts), leaving the children little choice of these particular subjects which they enjoy or encourages their creativity so they may achieve their highest potential.  There is a petition on the Festival website (http://www.baccforthefuture.com/) to counter this move and appeal to the Government to either continue to allow choice in schools, or to reformulate the EBacc to give more flexibility.  We would encourage you to take a look and sign up if you agree.