We had a really good evening at our joint concert with the Mendip Male Voice Choir, raising well over £800 for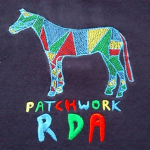 FR's charity for 2016 – the Riding for the Disabled Association (Gloucester West, Patchwork Group).  The MMVC were formed in 1919, and the 70-strong members of today's choir are still very much involved in raising money for various charities.  Under the baton of their MD, Jamie Knights – who also doubled up as their MC – and accompanied by Phil Evry on the piano, they sang a varied programme which went well with the more (seemingly) relaxed performance from Fascinating Rhythm.  It was a treat for us at the end when we were all together on stage to sing the very aptly named song 'Harmony'; lots of lovely Bass!
We're looking forward to meeting up with the chaps next year for a joint concert for their 2017 chosen charity.