Mances Marvellous Musical Magic
Fascinating Rhythm attended an intensive coaching weekend with Rob Mance on the 20th & 21st of May.
Rob was last with Fascinating Rhythm in April 2022 and the choir was keen to meet him again and show him the results of the hard work all choir members had put in. They definitely made Rob smile, he remarked that the choir had made a significant step change in vocal quality since he last visited and he recognised the amazing work that the musical team had championed to gain this improvement.
All choir members worked incredibly hard over the last year incorporating straws, using TETuner and working on their own personal vocal instruction (PVI) to make vocal improvements.
Rob was able to build on the work already done and this time round focussed Fascinating Rhythm on pitch accuracy and breathing.
By the afternoon of day 1 Fascinating Rhythm had identified some areas to work on in relation to pitch intervals, Rob assessed the entire choir giving new PVI's where needed and he undertook a full assessment for effective riser placement. The new sound was awesome!
Fascinating Rhythm members were keen to get back to work on day 2. During the warm-up, Rob remarked that he noticed an improvement just from the previous day. The session focussed on breathing and most importantly how to breathe effectively as a singer and how to relax. Understanding the anatomy of breathing was very useful and Rob was able to dispel a few Barbershop breathing myths.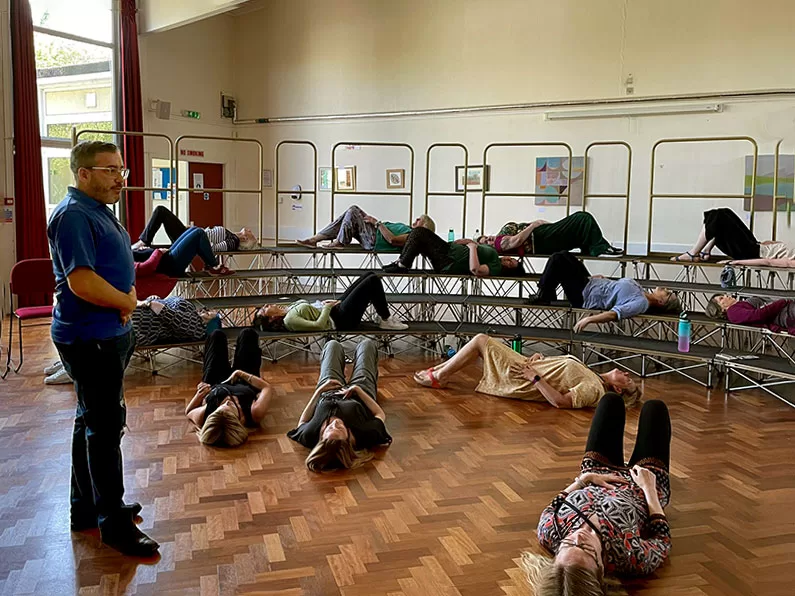 Fascinating Rhythm are completely floored by Rob Mance as he teaches effective breathing technique for singing.
"The weekend was incredibly rewarding and the vocal quality produced by the end of the weekend was sublime. We've worked so hard over the past year and it was so encouraging that Rob recognised the significant improvements we have collectively made."

Jo Thorn (Musical Director)
Choir members remarked on how relaxed they now felt when singing on the risers and how this helped them produce the best sound. Rob commented that it was inspiring to see the growth of the group.
Fascinating Rhythm has plenty to work on before Rob returns to coach them in September and look forward to achieving further vocal improvement.