Our Fundraising for St Peters Hospice
Bouncing like Bunnies for St. Peter's Hospice
On April 3rd this year, one hundred and twenty babies and children laughed, sang, and bounced like bunnies at the Easter parties held in Iron Acton Village Hall. Anne-marie Collier has enthusiastically run these wonderful Music with Mummy and Jolly Babies classes for many years. Since joining Fascinating Rhythm, she has offered us the opportunity to run refreshments for the families, raising money for our Charity of the Year.
A small team from Fascinating Rhythm (Susie, Kitty and Wendy) and Junior FR (Lily and Layla) displayed and served all the delicious cakes Fascinating Rhythm members and class parents donated, making countless cups of tea and coffee during the day. The cake was eaten, eggs were hunted, crumbs were hoovered (!), the raffle was drawn, and prizes were won. Most exciting, over £400 was raised for the most worthy cause, St Peter's Hospice, which supports families in the South West managing a terminal illness.
Our thanks to Anne-marie, and we look forward to your support at further events this year, where we hope to raise even more for this wonderful local charity.
"My Music with Mummy families all had such a great day at Iron Acton – what is not to love about music, chocolate and cake!
Thanks to our FR and JFR helpers who made the day even more special – I was so very grateful for their help and delighted we raised so much money." Anne-marie Collier
Written by Kitty Davies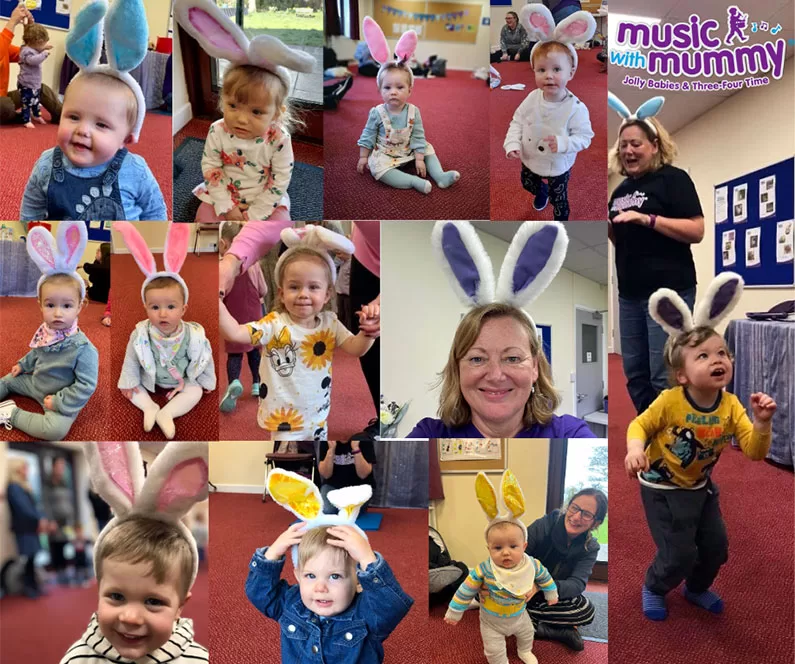 RhythmMix Make Music & Sell Cakes
Rhythmix, the small chorus from Fascinating Rhythm with support from Fascinating Rhythm members, ran a very successful fundraiser at Wotton Teas at the Town Hall in Wotton-under-Edge on April 16th, raising funds for their charity of the year St Peter's Hospice.
As well as a wonderful array of delicious homemade cakes made by Fascinating Rhythm members, RhythmMix performed a few songs from their repertoire to help things go with a swing.
Throughout the afternoon, there was a steady stream of visitors, including passersby, a local walking group and regulars who know where to find tasty homemade cakes on a Sunday in Wotton! The group were pleased to welcome quite a few ladies who had joined them at Fascinating Rhythm's 'Love to Sing' day in January. The day's workshop is run yearly to introduce new ladies to Barbershop singing and encourage new members.
Julie Macnamara, RhythmMix's newest member, said:
"This was my first sing-out with RhythmMix, so I was excited and a little nervous. I was surprised and thrilled to see so many locals coming along for a cuppa and cake and to hear us sing."
She continued,
"As we were singing "Feelin' Good" the song Fascinating Rhythm used for their "Love to Sing" day in January, several friends who took part arrived – it was perfect timing – they were smiling from ear to ear and singing along as they queued for their cakes!"
The cake and song kept flowing with 'Sweet Dreams', one of the group's newer songs and old favourites like 'Anthem' from the musical Chess and 'We go together' from the musical Grease.
The afternoon flew by and the icing on the cake – almost £400 raised for St Peter's Hospice!
Written by Julie Macnamara
RhythmMix Sing for Street Collection Day
What better way to spend a bright, sunny Saturday morning than being with friends, entertaining local shoppers and raising money for our Charity of the Year, St. Peter's Hospice?!
RhythmMix (with a bit of help from their friends) stepped in for FR in supporting the charity by singing in front of the Yate shop for over an hour on Saturday, June 10th and encouraged people to donate and visit the shop. Brenda, Ali, Joan, Jan, Angela, Vanessa and Barbara, with Carol, Suzi and Kitty, received great feedback from passersby and those relaxing in Wetherspoons nearby. Despite competition from lawn mowing, traffic, and the challenges of singing outdoors, we had a lot of fun and raised £130.
Written by Kitty Davies
PHOTO Yate Street collection June 10th